In Indian culture, the age-old concept of arranged marriages holds significant reverence. Traditionally, parents are responsible for finding a suitable life partner for their children, often enlisting the aid of relatives, marriage agencies, friends, and various intermediaries. However, the dynamics have evolved considerably in the current times.
Today, single girls or boys browse online matrimonial sites in India to learn about their potential life partners and establish a meaningful connection. In this evolving landscape, marriage bureaus in India have gained prominence as they provide the ideal backdrop for these modern matchmaking endeavors.
Let's check out the list of top 10 matrimonial sites in India.
1.) Shaadi.com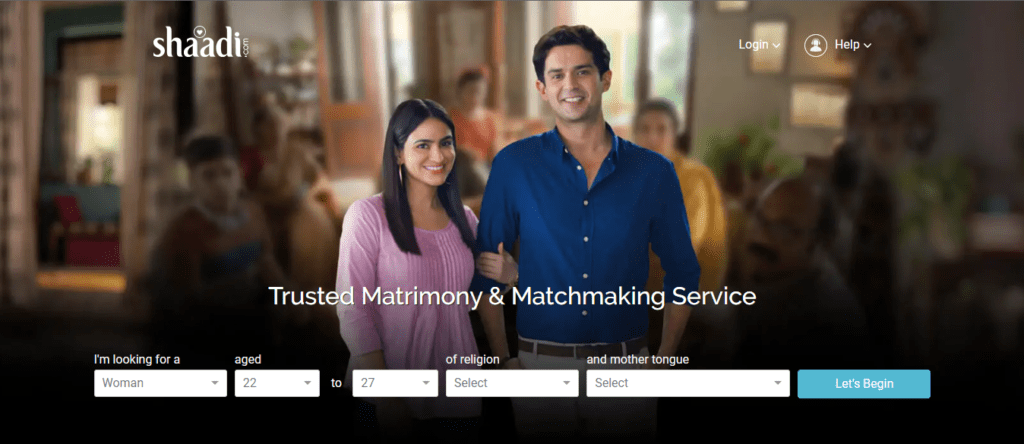 Starting around 1996 with the slogan "We bring people together, love unites them", Shaadi.com is one of the best matchmaking sites in India, gaining practical experience in wedding administration as well as matchmaking. This is the oldest matrimonial website in the world starting around 1996 for aiding individuals in tracking down their ideal partners as one of the top 10 matrimonial sites in India.
Google Rating: 4.2/5
Address: B-1/H5, 1st Floor, Mathura Rd, Mohan Cooperative Industrial Estate, New Delhi, Delhi 110044
2.) Bharat Matrimony
Being recognized in the list of top 10 marriage bureaus in India, Bharat Matrimony boasts a staggering membership of over 1 crore registered individuals. In addition to this, the Limca Book of Records has also acknowledged this platform for facilitating the highest number of documented marriages online. These remarkable awards and achievements stand as a testament to the genuine value offered by Bharat Matrimony.
Google Rating: 3.7/5
Address: A-26/2, Mohan Cooperative Industrial Estate, 1st Floor, New Delhi-110044
3.) Jeevansathi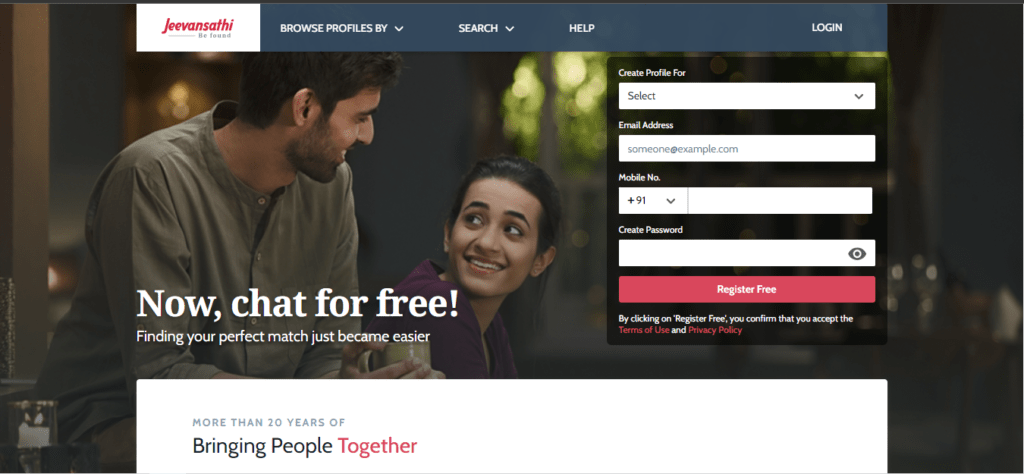 Since its inception in 1998, Jeevansaathi.com has been dedicated to forging perfect matches and fostering happy marriages, all while prioritizing 100% safety and security. Additionally, Jeevansathi is among the best matchmakers in India, enhancing accessibility for our customers. For those seeking a seamless experience, their official Android application offers an easier search process and instant updates, ensuring an excellent user experience, which makes them among the top matchmaking sites in India.
Google Rating: 1.5/5
Address: A-88, 2nd floor, Sector-2, Noida, Uttar Pradesh-201301
4.) Love Vivah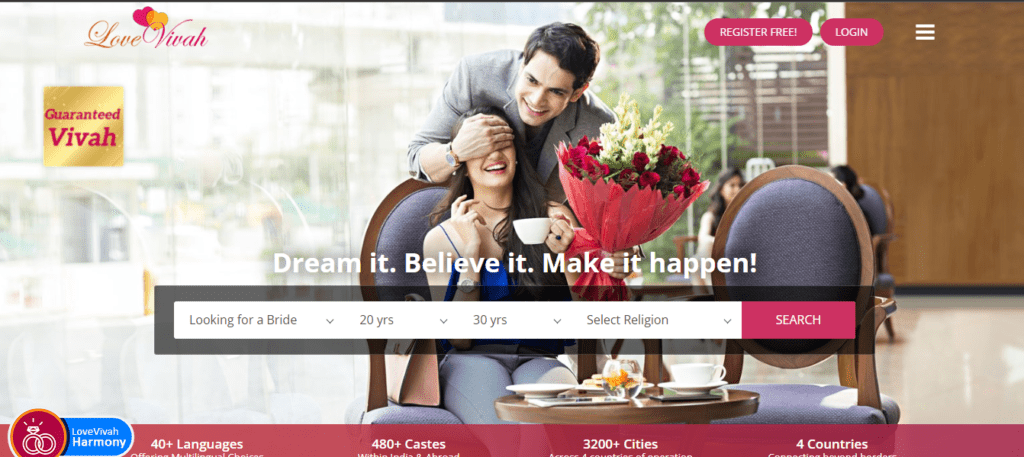 Love Vivah is an Indian matrimonial matchmaking service provider, dedicated to offering trusted and authentic matrimonial profiles for individuals seeking Indian brides and grooms for marriage. Their dedicated team is wholeheartedly committed to providing comprehensive solutions, ensuring a 360-degree approach that gives them a place in the list of top 10 matrimonial sites in India.
Google Rating: 3.7/5
Address: 709-11, 7th JMD MEGAPOLIS, Badshahpur Sohna Rd Hwy, Sector 48, Gurugram, Haryana 122018
5.) Imperial Matrimonial
Established in 2011, Imperial Matrimonial is a well-known marriage bureau in New Delhi, with its registered corporate office located in Nehru Place. Over the years, It has developed a global reputation among the top marriage bureaus in India and honed expertise in matchmaking, specializing in crafting perfect matches for elite-class families not only in the country but also across the world.
Google Rating: 4.4/5
Address: 1304 13th Floor, Hemkunt Chambers, Nehru Place, New Delhi, Delhi 110019
6.) Sycorian Matrimonial
At Sycoriaan, they provide a diverse range of services tailored to your needs making them in the list of top 10 matrimonial sites in India. You can select them according to your preferences and entrust all the details to them. They are well-equipped to handle every intricacy, allowing you to fully immerse yourself in the ceremonies without a worry which gives them a place in this list.
Google Rating: 4.4 / 5
Address: Kamal Cinema Complex, AB-1, Block A 1, Nauroji Nagar, Safdarjung Enclave, New Delhi, Delhi 110029
7.) Elite Matrimony
Elite Matrimony, a division of the matrimony.com group. They have championed the art of Elite matchmaking, boasting the most exclusive database of truly elite matches meticulously curated for their clients.
Google Rating: 4.3/5
Address: Safdarjung Enclave, Kamal Cinema Complex, New Delhi – 110055
8.) Imperial Wedding
Imperial Weddings leverages extensive experience in the realm of public relations as the best personalized matchmaker in India. This unique blend of skills equips them with an exceptional ability to comprehend the expectations of both families and prospective brides and grooms when it comes to their future life partners. Which helps them to make their place in the top 10 matrimonial sites in India.
Google Rating: 4.2/5
Address: P.P Trade Center, 211, Netaji Subhash Place, Pitampura, New Delhi-110034
9.) Matrimonials India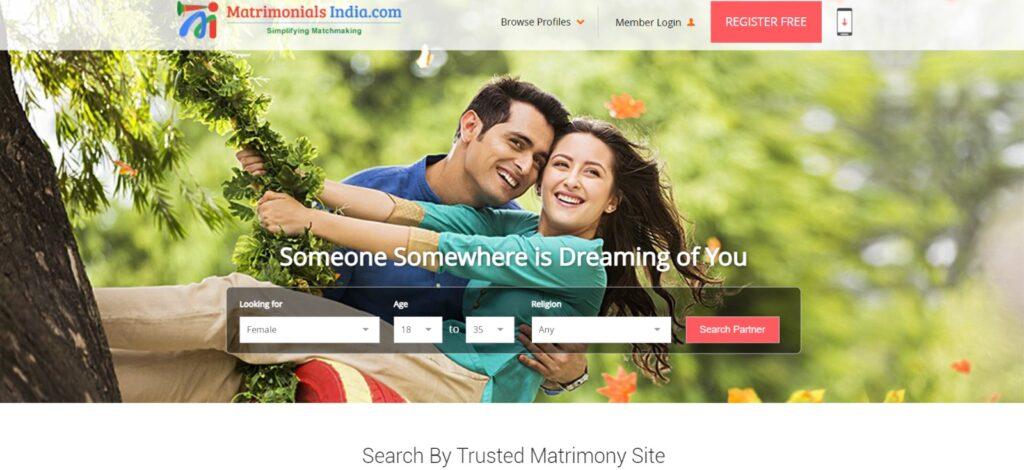 Established in 1997, Matrimonial India is one of the top matrimonial sites in India, providing free and premium services to users. They have a huge database of potential brides or grooms profiles. Here, you can invest your time in searching for your ideal life partner in an affordable and accessible manner by registering with their free service.
Google Rating: 4.1/5
Address: 33 & 33A, Rama Road, Industrial Area, Near Kirti Nagar Metro Station, New Delhi, Delhi 110015.
10.) Wedgate Matrimonial Services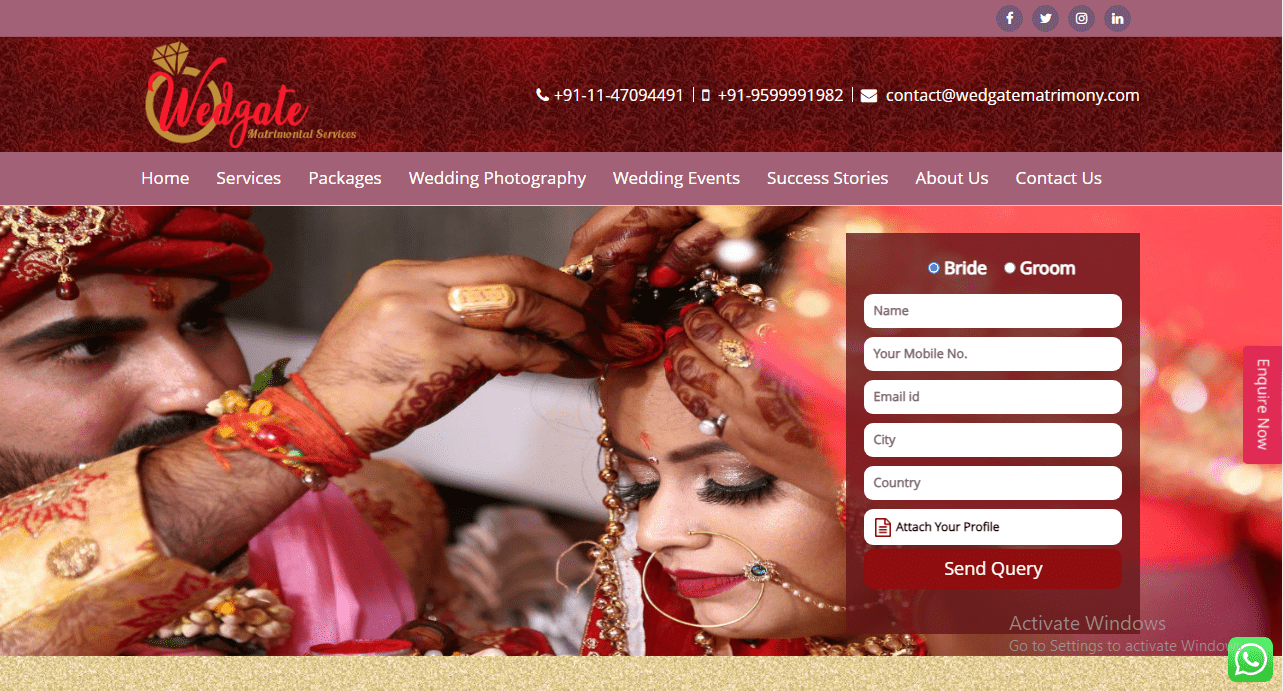 Wedgate Matrimonial, facilitating the search for the perfect wedding match for 16 years, proudly holds the reputation of being the best matchmaker in India. Over the years, they have successfully organized numerous Swyamvars across the nation, catering to various featured communities. This is the reason why they are on the list.
Google Rating: 4.4/5
Address: Metro Pillar Number 333, I-7, FIRST FLOOR, above Babyhug, Najafgarh Rd, near Moti Nagar Metro Station, Kailash Park, New Delhi, Delhi 110015
How Imperial Matrimonial Could Be Your Ideal Choice Among All Of The Matrimonial Sites In India
Choosing Imperial Matrimonial is not merely about finding a life partner; it's about embarking on a journey toward everlasting love and companionship
1.) Expertise Beyond Compare: Imperial Matrimonial has 12+ years of experience in the matrimony field. They have an in-depth understanding of regional cultural, diversity, and the intricacies of the matchmaking process.
2.) Unwavering Trust: Trust is the foundation of any successful relationship, and Imperial Matrimonial, places it at the forefront of their service. Their rigorous background checks and stringent verification processes ensure that every profile you encounter is genuine and trustworthy.
3.) Continuous Innovation: In a rapidly changing world, they embrace technology and innovation to enhance your matrimonial experience. They continuously work to improve user experience in their online portals to make them not just effective but enjoyable.
4.) Privacy and Security: Your privacy and security are paramount when you embark on a journey for personalized match-making service in India at Imperial Matrimonial. They ensure your data and interactions remain confidential.
5.) Continuous Support and Guidance: What truly sets Imperial Matrimonial apart as the best among the top matrimonial sites in India, is that they never leave you on your own once you've made a connection. From providing advice on navigating family dynamics to helping you plan the perfect proposal, our experts are there to assist you at every step, ensuring that your path to marriage is as smooth as possible.
Contact Us For A Personalized Match Making Service, Now!
Please Visit Our Social Media Handles For More: